The first 'Hybrid 7.5' trailerable power cat has been launched with great success in Hobart, to the delight of owner-builder Paul Matters. Underwater the Hybrid 7.5 utilises the CHATM hull technology (Patent Pending), while maintaining a more conventional arrangement above the water in order to preserve functionality as a large trailerable vessel. The CHATM technology has allowed the spacious 7.5m cat to achieve 28 knots with only twin 70HP outboards, which is staggering for such a large boat. Furthermore this technology has provided the Hybrid 7.5 with what Paul Matters considers (quote) "an unsurpassed ride".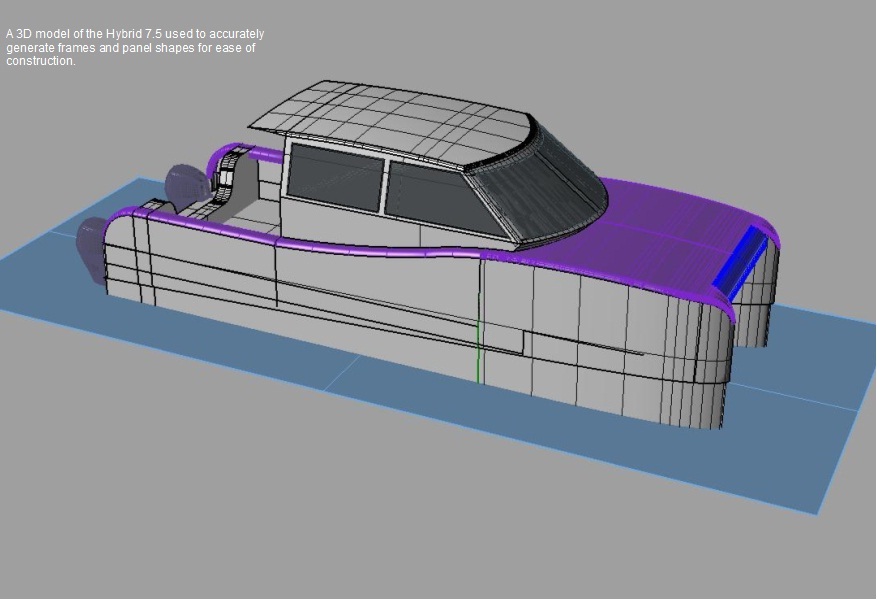 In all his years on the water, having owned numerous boats (including both cats and monohulls), Paul has never experienced such a comfortable vessel in rough water. This is a big call considering Paul's experience on the rough waters of southern Tasmania and his search for the ultimate vessel for these challenging conditions. In fact prior to launching Paul had installed a gas suspension helm seat in the vessel, as had been required in his previous boats, but now considers it completely unnecessary; "Installing the suspension seat was a waste of time, even at 25 knots into a 25 knot wind and a sharp and confused 3/4m chop the chair did not have to work once". Having tested and pushed the boat considerably since launching, Paul says he is yet to find conditions where he was forced to reduce speed for either comfort or safety.
This is the major advantage of the CHATM hullform and the Hybrid 7.5 over all conventional vessels, the ability to maintain high operating speeds in virtually all conditions. Many modern power boats utilise huge amounts of horse power to achieve 35+ knots but can only do so in flat calm water and once they reduce speed they are forced into a very inefficient operating range (often falling off the plane) which only exacerbates their poor efficiency. The Hybrid hullform has a very linear speed/power curve, meaning that the vessel operates efficiently at all speeds. This is due to the nature of the CHATM hullform, which is highly efficient in the displacement mode and gradually increases lift into the higher speed range without any pronounced humps or hollows.
For more information regarding the Hybrid 7.5 view the brochure below, or contact us for a study print. Photos of the Hybrid in action will be posted soon.